RAP TATTOO REMOVAL
So, you've got a rap tattoo you don't like? Well, you've come to the right place. There's lots to learn, but here's what you really need to know…
RAP TATTOO REMOVAL WITH #1 LASER TECHNOLOGY
Tattoos are a great way to express yourself, but sometimes our interests and identities shift over time. However, tattoos don't have to be permanent. If you have a tattoo that no longer feels like it represents you, you can now get rid of it. Rap tattoos can remind us of times we don't want to look back on, they can alienate us from our own bodies, make people judge us, and prevent us from getting the jobs we really want because of prejudice. If you're looking for rap tattoo removal in the Melbourne suburbs, Ink Anxiety is the clinic to come to. Read More
Based in Rosanna, we provide professional, safe laser tattoo removals in Melbourne free of judgement, with safe procedures that greatly minimise the risk of scarring, burns and infection.
Frequently Asked Questions About Rap Tattoo Removals
Q: How long will it take?
A: All rap tattoo removals are different and removing them will take different amounts of time. Factors that impact the number of sessions required include the age and colour of the tattoo, the tattoo location, and type of ink used, as well as your general health and well-being.Ammatuer tattoos usually require 1-3 sessions, while professional tattoos take an average of 5-10 sessions. You should wait for a minimum of six weeks between each session.
Q: Can the tattoo be entirely removed?
A: In most cases, yes, the tattoo can be entirely removed. There is no technology which guarantees the complete removal of white or yellow ink, but all other colours, even the most stubborn ones, can be treated with our laser resurfacing technology. While laser tattoo removal sometimes does leave scars, we utilise technology that makes this extremely unlikely. Most of the time, we'll leave your skin looking brand new, with no trace that you ever had a tattoo removed.
Q: Can anyone have a tattoo removed?
A: Unfortunately, the answer is no, not everyone will be a suitable candidate for rap tattoo removal. When you arrive for a session, you need to be well-rested and not under the influence of drugs or alcohol, and the area we're treating also can't be sunburnt. Pregnant and breastfeeding women will also have to wait. Several medications and medical conditions can prevent you from receiving laser tattoo removal. We will go over all of these things with you during your consultation to assess your suitability.
Q: What if I want my tattoo covered up?
A: If you don't want to get rid of your tattoo entirely and just want to replace it with an updated or new design, we can accommodate that too. If the coverup is smaller than the tattoo you have right now, we can perform partial removals or a full body tattoo removal. We can also fade your tattoo over a few sessions so that it can be more easily covered by a new design. Let us know what your goal is during your consultation.
Booking Your Rap Tattoo Removal With Ink Anxiety
Your journey to having your rap tattoo removed begins with a consultation that you can book through the book now button on our website. You're also free to call us or utilise the contact form on our website if you have any questions or concerns. Ink Anxiety is dedicated to the health and safety of our customers, and we use reliable technology and qualified staff to offer safe tattoo removals. We're one of the most reliable options you can find in the Melbourne suburbs, so book your consultation with us. Read Less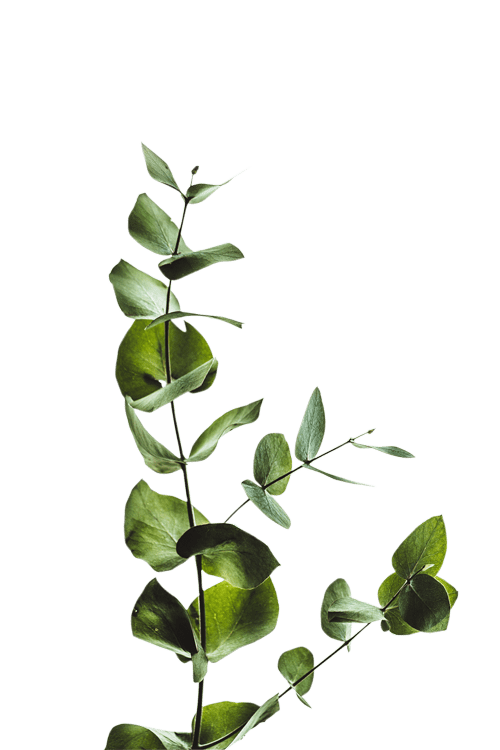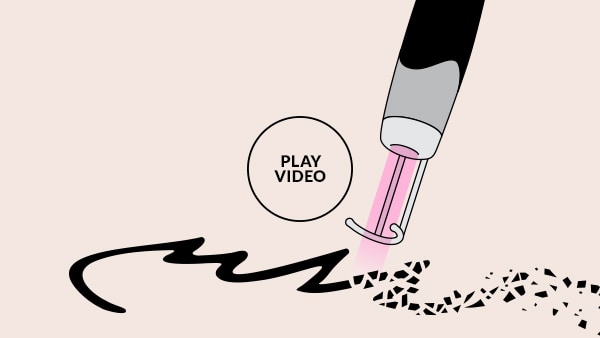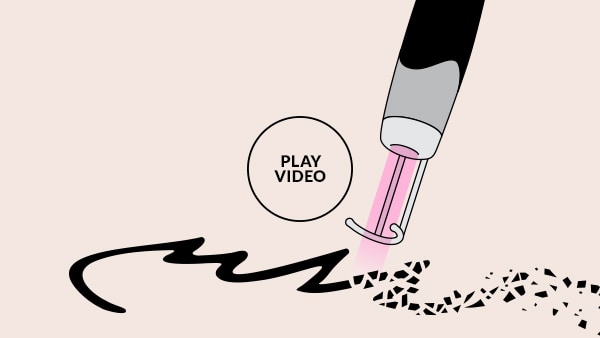 HOW DOES TATTOO REMOVAL WORK?
Laser tattoo removal works by shattering the tattoo pigment into smaller fragments which are then dispersed naturally via your immune system. All of our laser treatments are performed using the Q-Plus EVO by Quanta System.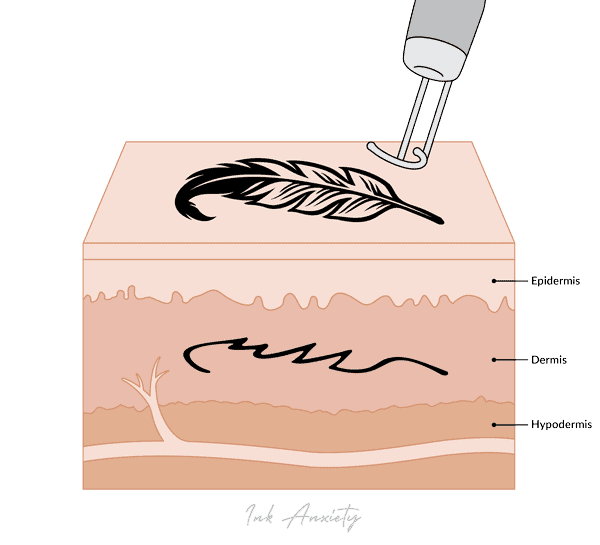 Laser Tattoo Removal is the safest and most effective way of removing unwanted tattoo pigment. The treatment area is cooled and the handpiece is applied directly to the skin.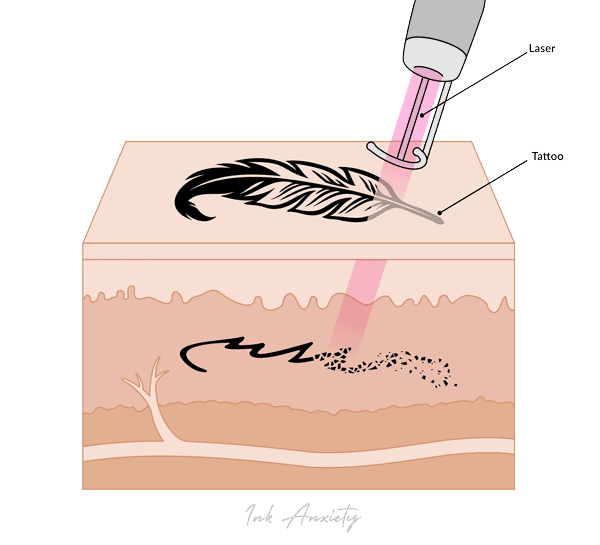 A concentrated beam of laser light penetrates through the epidermis to the dermis, targeting only the tattoo pigment, leaving the surrounding skin unharmed. The pigment is shattered into smaller fragments.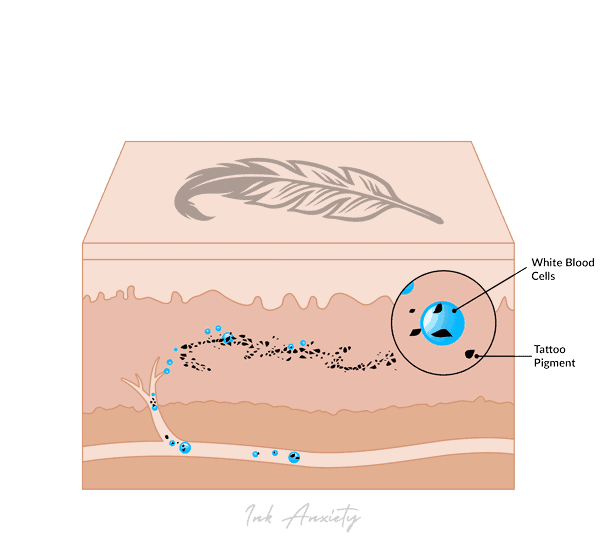 Over the coming weeks, your lymphatic system goes to work. White blood cells carry the broken down fragments out of the body via the lymphatic channel. The skin begins to heal.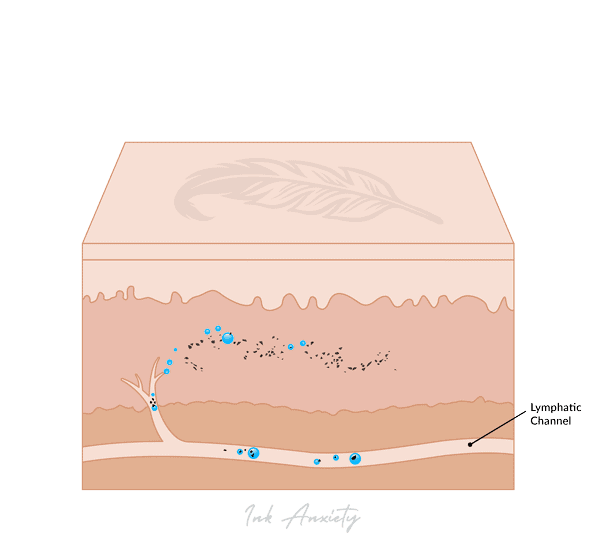 With each subsequent treatment, more tattoo pigment is broken down and then dispersed. Over time, following a series of treatments, your unwanted tattoo is removed without scarring.
WHAT NEXT?
We know that laser treatment can be overwhelming. We've been there, which is why we strive to make things as simple and worry-free as possible. The hardest part is taking that initial step.
"One thing I can promise is that once you take action, you will instantly feel better about your skin. Just knowing that you've taken the first step is an instant weight lifted." – Erin, Ink Anxiety.
If you'd like to learn more, please read our FAQs or schedule an obligation free consultation.