DARK TATTOO REMOVAL
So, you've got a dark tattoo you don't like? Well, you've come to the right place. There's lots to learn, but here's what you really need to know…
DARK TATTOO REMOVAL WITH #1 LASER TECHNOLOGY
Are you considering getting rid of some old ink? The reasons why people want to have tattoos removed are many, and so are the reasons why they hesitate to go for laser
dark tattoo removal
. We've all heard horror stories about burns and scarring, and we might think it's not worth it. But when you choose a reputable clinic,
tattoo removal in Melbourne
doesn't have to be a dangerous endeavour.
Read More
Ink Anxiety, based in Rosanna and open 6 days per week, provides some of the safest and most reliable tattoo removals in the Melbourne area. With our expertise, qualifications and advanced equipment, we can safely remove even the darkest and largest tattoos, often without leaving any trace behind.
The Safest Dark Tattoo Removal in Melbourne
Tattoo removals are often performed by people who aren't properly trained or qualified, using outdated and unsafe equipment and procedures that leave you at risk of injury. Penetrating human skin with laser is a complicated and risky procedure that should not be undertaken by someone who doesn't have the proper qualifications or training, which is why it's important to go to a reputable dark tattoo removal specialist clinic instead of an aesthetician or similar. The person performing the procedure must also be able to assess all risk factors and determine if you're a suitable candidate, considering there are many things that might put you at risk while undergoing laser cosmetic tattoo removal. This includes sun exposure, medications, and several medical conditions. At Ink Anxiety, we've experienced first-hand the dangers of choosing the cheapest, closest option for tattoo removal. Burns, severe scarring and infections are often the result. That's why we've entered the market, to provide people with an option that is safe, reliable, effective and reduces the risk of scarring.
Our Dark Tattoo Removal Clinic
We spent a long time searching for the safest and most effective laser for tattoo removal. After reading the statistics and comparing the results from different lasers, the Quanta Q-Plus EVO is the one that stood out. It's one of the most advanced, safe and effective lasers on the market today, setting the standard by which others are measured. This laser offers three wavelengths in one device, which means it gets effective results while minimising the exposure to your skin. This technology is capable of removing even the most stubborn tattoo colours and doesn't cause as much damage to your skin as many other lasers. Our clinic is one of few in Australia that uses the Q-Plus EVO, making us a better choice than most. We also use a cooling system at the same time, to cool the skin and reduce discomfort and swelling which works well for eyebrow tattoo removal.
Booking Your Dark Tattoo Removal With Ink Anxiety
We utilise Fractional ResurFACE®technology that prevents scarring and ensures that tattoos can be removed without a trace. The devices we use at our clinic are some of the safest in the business, greatly reducing the risk associated with dark tattoo removal, and are operated by our fully qualified staff. We can remove even dark tattoos in 1-10 sessions.
If you're considering tattoo removal, choose the safest option out there and come to Ink Anxiety. Book your consultation on our website or by calling (03) 91908979. Read Less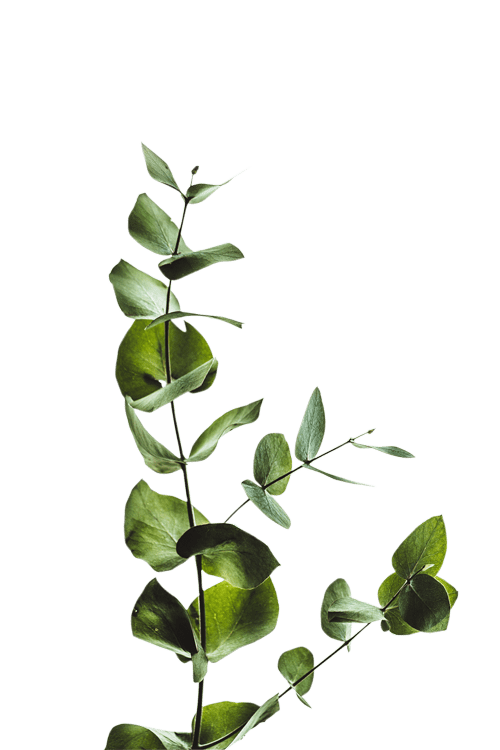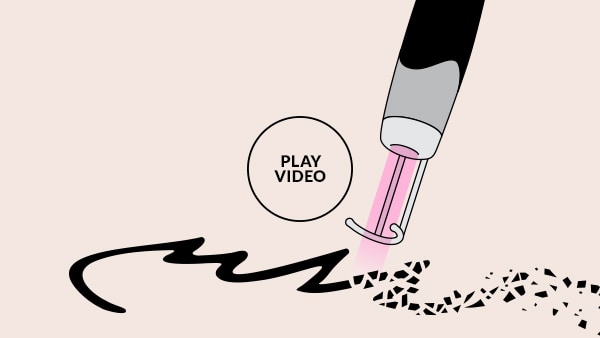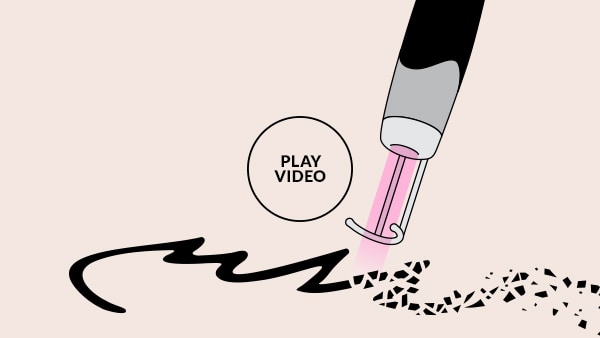 HOW DOES TATTOO REMOVAL WORK?
Laser tattoo removal works by shattering the tattoo pigment into smaller fragments which are then dispersed naturally via your immune system. All of our laser treatments are performed using the Q-Plus EVO by Quanta System.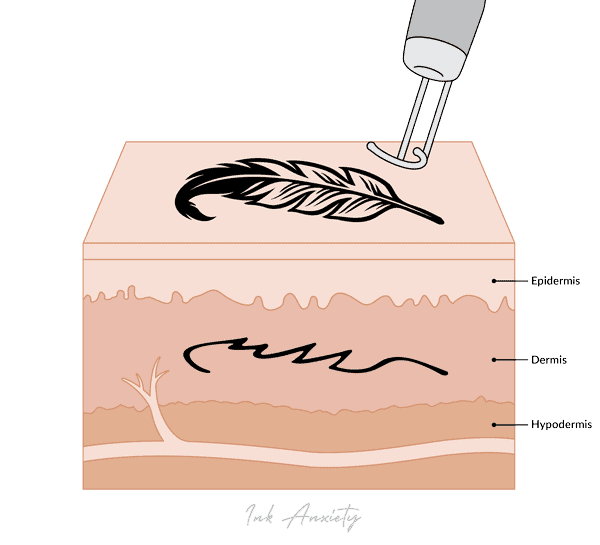 Laser Tattoo Removal is the safest and most effective way of removing unwanted tattoo pigment. The treatment area is cooled and the handpiece is applied directly to the skin.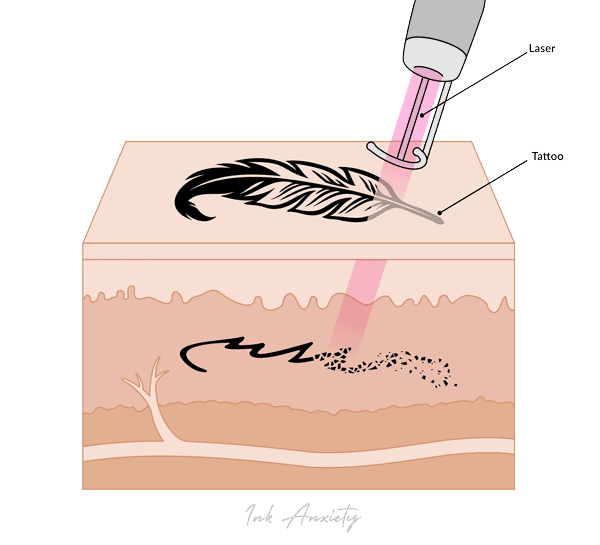 A concentrated beam of laser light penetrates through the epidermis to the dermis, targeting only the tattoo pigment, leaving the surrounding skin unharmed. The pigment is shattered into smaller fragments.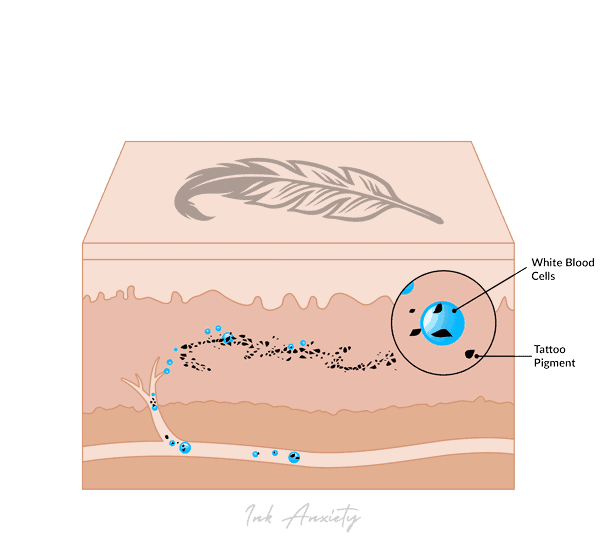 Over the coming weeks, your lymphatic system goes to work. White blood cells carry the broken down fragments out of the body via the lymphatic channel. The skin begins to heal.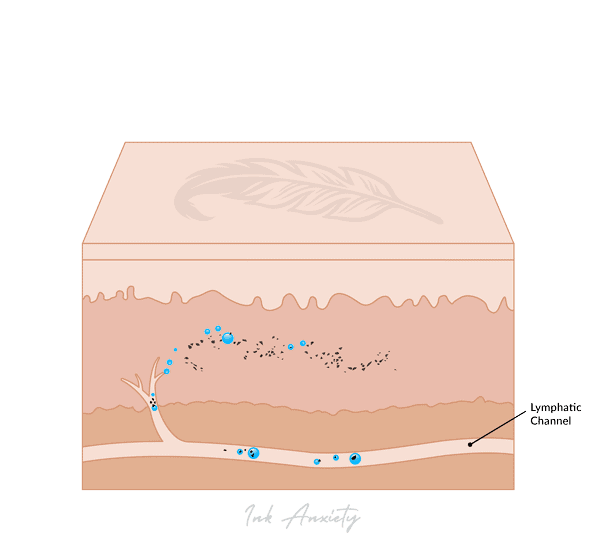 With each subsequent treatment, more tattoo pigment is broken down and then dispersed. Over time, following a series of treatments, your unwanted tattoo is removed without scarring.
WHAT NEXT?
We know that laser treatment can be overwhelming. We've been there, which is why we strive to make things as simple and worry-free as possible. The hardest part is taking that initial step.
"One thing I can promise is that once you take action, you will instantly feel better about your skin. Just knowing that you've taken the first step is an instant weight lifted." – Erin, Ink Anxiety.
If you'd like to learn more, please read our FAQs or schedule an obligation free consultation.