Eyebrow microblading has become extremely popular in recent years. It gives you noticeable eyebrows without makeup and can improve the shape, density, and overall look of your natural brows. However, not all microblade technicians are created equal and sometimes microblading goes wrong – badly wrong. You may find that your new eyebrows are in the wrong position, are the wrong shape or just don't suit your face. Inferior inks may have been used that fade to an orange or even green colour rather than fading naturally.
But don't worry, help is at hand. It's possible to remove eyebrow tattoos in the same way as normal tattoos. However, before you rush out to correct your disastrous eyebrows, you need to read this article about eyebrow tattoo removal, or you may have another disaster on your hands.
What is eyebrow tattoo removal?
It's easy to remove eyebrow tattoos using the latest laser technology. The laser uses pulses of light energy on your microbladed brows to break up the pigment under your skin. The ink particles absorb the light and shatter into smaller particles which are then removed by the lymphatic system. After each treatment, your tattoo will lighten, and your skin will be ready for the next session in about six weeks. With each laser treatment, the ink particles are further broken down and dispersed until they are no longer visible.
To remove an eyebrow tattoo completely, you will probably need between 3 and 5 sessions of laser treatment. If you're undergoing laser treatment because your microbladed eyebrows aren't the right shape, it is possible just to remove a small section to create a better shape. This will usually take between 1 and 3 sessions. Your technician will be able to give you a better idea of how many sessions you will need during your consultation. At Ink Anxiety, we use the Q-Plus EVO by Quanta System which removes ink pigments in a completely safe way without the risk of scarring.
Does it hurt?
We're not going to lie – it isn't entirely pain-free, but most people only experience minor discomfort. Plus, the treatments are usually over very quickly. You will need to wear eye protection to protect your eyes while the laser is being used.
What you need to know before your first treatment
There are a few things you need to be aware of before your first laser treatment.
You must take care to protect your skin from the sun with sunscreen for several weeks before the treatment. You should also avoid using self-tanners and spray tans.
For a week before treatment, avoid shaving, waxing, or exfoliating the skin around the eyebrows.
It's also extremely important that you don't take any anti-inflammatory drugs or aspirin as these may increase bleeding.
On the day of the treatment, keep yourself well hydrated by drinking plenty of liquids.
What to expect after the treatment
As already mentioned, the process is quick and relatively pain-free. However, you may experience some side effects such as swelling, redness and perhaps slight blistering in the areas that have been treated. You may also see some lightening or darkening of the skin, but don't worry, this is temporary. If you do experience any of these side effects, they will usually subside quickly, and your skin will return to normal within 14 days.
You must follow the aftercare routine given to you by your technician
We can't stress enough how important it is to follow your aftercare routine. You should also avoid using makeup on your eyebrows and the surrounding areas. Do not use any creams other than those suggested by your technician and if you do use regular skincare, be sure to check if it's ok to continue using it.
You can wash and shower but be sure to avoid water hitting your face at high pressure. And, most important of all, avoid sun exposure until your skin has healed. If you do have to go out, always apply sun protection.
If you have any questions about eyebrow tattoo removal, the team at Ink Anxiety will be more than happy to help you.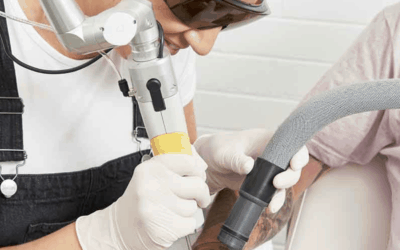 Many people choose to use a tattoo numbing cream before getting a tattoo or getting one removed, especially if the tattoo is extensive or in a sensitive area. While it does not completely eliminate the pain, it can reduce it and help make the whole experience more...
read more