We know how important it is to have a good skincare regime to keep our skin looking at its best. However, sometimes lotions, potions and serums are not enough to give the results we want. And that's where laser resurfacing treatments can help by rejuvenating the skin, improving minor flaws, and restoring a healthy, radiant and more youthful complexion. Laser treatments can be used on the face, neck, decolletage or other areas of your body.
How does fractional laser resurfacing work?
Specialist lasers focus high energy beams of light onto the outermost layers of the skin to restructure existing cells while stimulating the healthy skin layers beneath. The treatment is designed to promote the production of new collagen and elastin which will give the skin a firmer, smoother, and more even appearance. Microbeams from the laser use thermal energy to penetrate both the epidermal and dermal layers and create tiny wounds. Each pulse of the laser treats just a 'fraction' of the skin with minimal impact on surrounding tissue. This results in fewer side effects and more rapid healing. It's the body's healing response to this damage that encourages new collagen production and the restructuring of the cells.
6 benefits of laser resurfacing
There are many benefits associated with using fractional laser resurfacing, including:
A reduction in fine lines and wrinkles
As we age, we begin to notice fine lines and wrinkles on our skin, particularly around the eyes and mouth. Laser treatments can help to soften these lines to leave the skin looking smoother and healthier.
An improvement in brown spots, redness and discolouration
Sun exposure can take its toll on facial skin resulting in dark spots and areas of uneven skin pigmentation. Fractional lasers can remove brown spots and hyperpigmentation to create a more even, balanced skin tone.
Increased collagen and elastin production and tighter skin
Our skin gradually loses its elasticity as we age which causes it to sag and generally look tired. Treatments with our fractional lasers stimulate the production of new collagen and elastin and promote more collagen absorption in the areas surrounding the treated skin. The skin will look firmer and more youthful immediately after treatment and, over time, will continue to improve.
An improvement in scarring
Fractional laser treatments can improve scarring from acne, surgery or accidents. While results will vary, it's a great solution for making them less noticeable. In some instances, the scars may be removed completely.
Areduction in the appearance of broken capillaries
Broken capillaries or spider veins can be caused by several things, including sun exposure, hormones, skin irritations and alcoholism. They can usually be removed in just one or two sessions with fractional laser resurfacing.
A reduction in pore size
Enlarged pores are generally down to genetics and tend to become more obvious as we age. Laser resurfacing can reduce the size of enlarged pores to leave the skin looking smoother, and more even.
Always choose a reputable and experienced technician
At Ink Anxiety, the health and safety of our clients are paramount. All our treatments are carried out with precision and care using the award-winning Fractional ResurFACE® laser which is one of the most effective tools for fractional laser resurfacing. It not only helps to minimise fine lines and wrinkles, reduce acne scarring and reverse the effects of sun damage but it firms and tightens, improves the overall texture and evens out skin tone.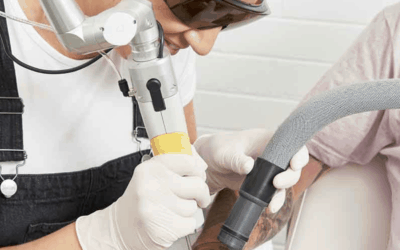 Many people choose to use a tattoo numbing cream before getting a tattoo or getting one removed, especially if the tattoo is extensive or in a sensitive area. While it does not completely eliminate the pain, it can reduce it and help make the whole experience more...
read more